Italy 2-0 Northern Ireland: Statistics from the match
Discover the most interesting numbers from the Azzurri's opening match in qualifying for the Qatar 2022 FIFA World Cup
Friday, March 26, 2021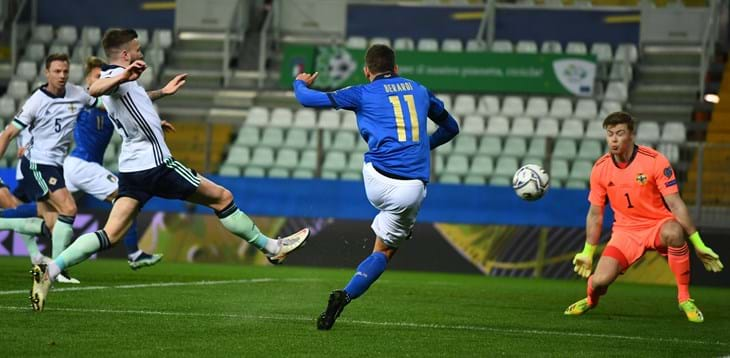 Roberto Mancini became just the third coach to go undefeated in his first 15 home games in the Italian dugout (9W, 6D), after Enzo Bearzot and Marcello Lippi.
Of the teams against which Italy have won all their home games, Northern Ireland is the team that the Azzurri have beaten most often (seven out of seven).
Italy have picked up six clean sheets in a row against Northern Ireland: against no team have the Azzurri ever recorded a longer streak without conceding a goal.
Italy are unbeaten in their last 23 matches in all competitions (18W, 5D), conceding just one goal in their last eight outings.
Leonardo Bonucci made his 100th appearance with the Italian national team, becoming just the eighth player to reach this milestone with the Azzurri.
Bonucci became the fifth youngest player to reach 100 caps for the Italian national team, at the age of 33 years and 329 days.
Bonucci also made his 23rd appearance with Italy under the management of Mancini, becoming the most used player by the current national team coach.
Domenico Berardi became the first Italian player to score in three consecutive games for the national team under the guidance of Roberto Mancini.
Ciro Immobile had not scored for Italy since November 2019, against Armenia; seven of his eleven goals for the Azzurri have come in qualifying matches for the World Cup.
Lorenzo Insigne has assisted three of Italy's last five goals in all competitions.
Two of Alessandro Florenzi's three assists with the Italian national team have come under the management of Roberto Mancini.