Great success for the Trophy Tour in Reggio Emilia: the singer Nek is among the visitors
With less than a month to go until the European Championship kicks off, dedicated initiatives in the cities, towns and communes involved continue
Monday, May 20, 2019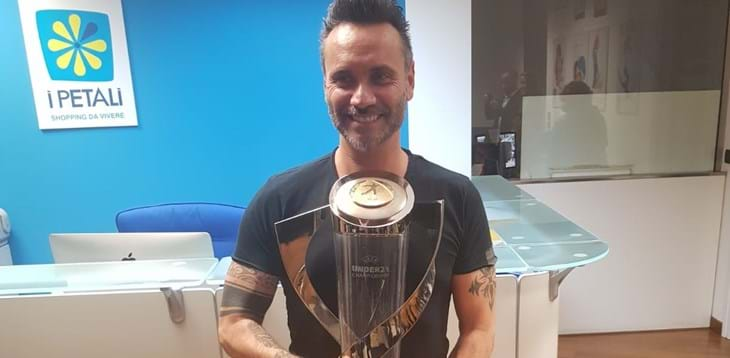 The Under-21 European Championship Trophy Tour turned out to be a great success on Sunday: the cup stopped off at the "I Petali" Shopping Gallery in Reggio Emilia near the Mapei Stadium – Città del Tricolore. There was a large number of visitors, who were able to have their photo taken with the trophy. Among them was singer Filippo Neviani, known by his stage name Nek, who is a big Sassuolo and Azzurri fan. He also wanted to be photographed with the cup.

Thanks to special glasses, all the visitors to the stand had the opportunity to take a 3D trip through the places that will host the Under-21 European Championship (Bologna, Reggio Emilia, Trieste, Udine, Cesena and San Marino) and visit the most famous spots. Our guests also got to play with players involved in the Under-21 National Team in Virtual Reality: they were captain Rolando Mandragora, Manuel Locatelli and Riccardo Orsolini. Furthermore, Salvatore La Manna, who is part of Italy's Amputee Team, showed the visitors what makes the places involved special and unique, while he also told them about what it means to cheer on our National Team.
Tickets for the Under-21 European Championship are on sale at uefaeurounder21.vivaticket.it, with prices varying from three to eight euros. Groups that register on the site tifiamoeuropa.eu can obtain discounts.