Rome: Two days of discussion on the topics of safety in stadiums and the management of footballing events
Many topics were up for discussion, including the new Stewarding Decree, the Daspo measures and their approval, the FIGC guidelines on structures of organisation and management, and the new Code of Sporting Justice
Monday, October 14, 2019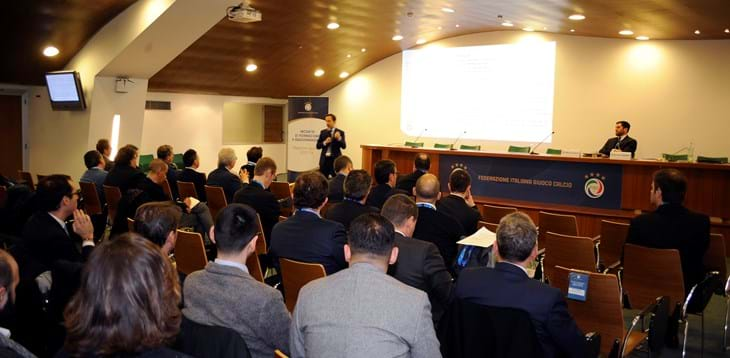 Two days of discussion and work on the topics of safety in stadiums and the management of footballing events took place across 12 and 13 October in Rome. The FIGC, as a part of the range of activities it provides within the National Licences system, organised a refresher seminar for the Delegates and Vice Delegates responsible for events management and the SLOs (Supporter Liason Officer) of Serie A and Serie B clubs. It was an important and formative moment, enriched by the participation of over 120 staff from the clubs at the Italy vs. Greece game, which took place at the Stadio Olimpico on Saturday.
There were many topics for discussion and debate: the new Stewarding Decree, which has reorganised the protocol, reinforcing the importance of organisational systems, the procedure of management and training programmes; the Daspo measures and their approval, such as tools aimed at helping ban violent spectators; the FIGC guidelines on structures of organisation and management; the new Code of Sporting Justice; the in-stadium experiences of the SLOs, on the subject of dialogue with the fans.
During the seminar numerous testimonies and speeches from qualified sources were heard. The seminar was lead by Daniela Stradiotto, President of the National Observatory for Sporting Events. The programme of topics dealt with following in detail: the new Stewarding Decree, presented by Massimo Passariello, Vice President of ONMS and Giovanni Spitaleri, FIGC's Head of Events, Infrastructure and Security; Responsibility and the Code of Sporting Justice, presented by Giancarlo Viglione Esq., Coordinator of the Commission for the reform of Sporting Justice, and Chiara Faggi Esq., Coordinator for the FIGC's Office for Sporting Justice; Responsibilities of organisers and in-stadium staff, presented by Ernesto Caggiano, Cabinet Magistrate to the Ministry of Justice; Stewarding and the aspects of labour law, presented by Amalia Falcone Esq., expert in worker's rights; Event Management Plan, presented by Ferruccio Taroni, President of the National Association of Security Delegates.
AC Milan, Cagliari Calcio and Spezia Calcio were all very involved in the discussions, as they provided concrete examples from their respective SLO's experiences. Representatives from the Serie A League (Manuela Bertona) and the Serie B League (Stefano Pedrelli) were also present.
The refresher and training programmes run by the FIGC will continue in the following weeks and the same issues will be discussed and examined in depth with the clubs of the Lega Pro on 29 and 30 October.