The ninth 'ReportCalcio' presented. Gravina: "Italian football has enormous stature in our country"
Giorgetti: "Thank you for having highlighted the socio-economic impact of Italian football"
Tuesday, July 9, 2019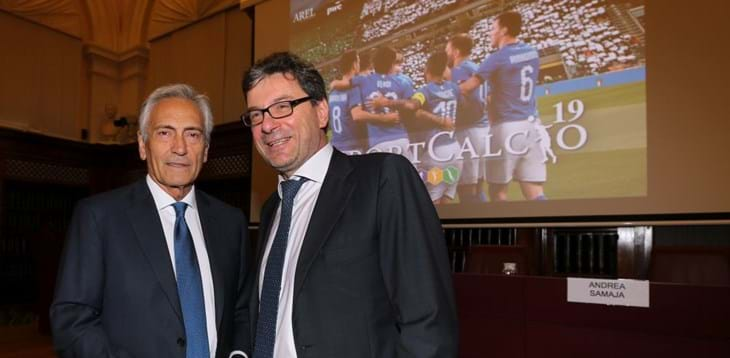 28 million fans, almost 1.4 million registered members and approximately 568,000 competitive matches played every year (64 per cent of which are at youth level): the numbers that have emerged from the ninth edition of the 'ReportCalcio', which was presented in Rome this morning, confirm that football continues to be the number one sport in Italy. This year, 'Report Calcio' included an in-depth section dedicated to the socio-economic impact of this far-reaching activity: playing football has a positive impact on the medical and health sector in Italy, while it also has direct benefits in terms of legacy and involving a very large portion of civil society.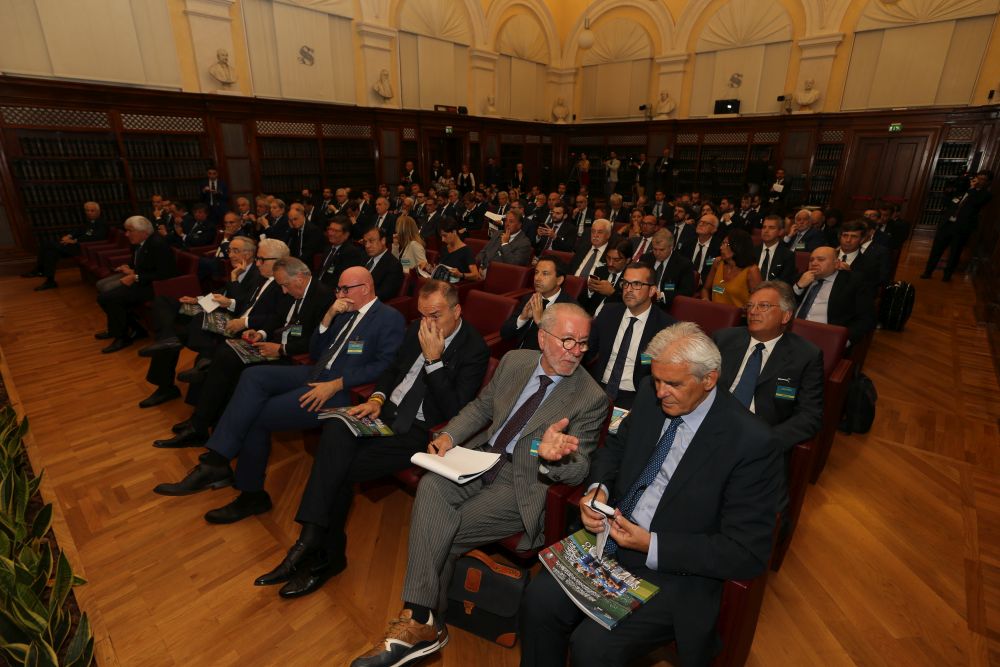 The Undersecretary of the Council Presidency Giancarlo Giorgetti, the FIGC President Gabriele Gravina, the Head of Development and Training at the FIGC Niccolò Donna and PwC (PricewaterhouseCoopers) partner Andrea Samaja spoke at the presentation relating to the Annual Report on Italian Football, which was put together by the FIGC Study Centre in collaboration with AREL (Agenzia di Ricerche e Legislazione) and PwC (PricewaterhouseCoopers). Meanwhile, the Secretary General of AREL Enrico Letta sent his greetings through a video message.
Undersecretary Giorgetti was full of praise for the FIGC: "I'd like to thank you, because with this Report you have shone a light on and highlighted the most important thing: the socio-economic impact of Italian football. A study that perfectly reflects the spirit and direction we're going in with the reform of Italian sport through Sport e Salute (Sport and Health). There is a sporting dimension and a social dimension – the Government mustn't forget this. As regards the tax revenues of the sporting system, football generates 70 per cent of these, something which will then also benefit all other sports disciplines. If football receives criticism from other disciplines, there should be the understanding that supporting football yields more economic returns for other sports too. We can attract big events and invest more money, but many things have to pass through professional clubs, and some of these are experiencing difficulties – especially in Serie B and Serie C. There needs to be a system in place to support professional football with the costs it generates."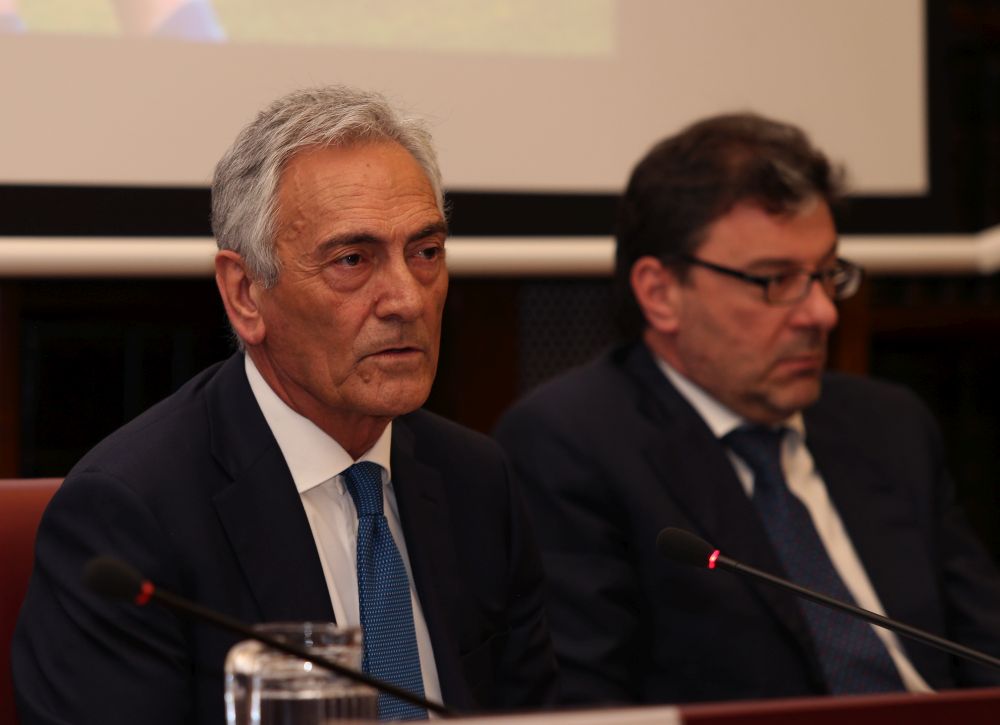 "It's been a demanding but important piece of work," said FIGC President Gravina. "But now this Report has become a pleasant tradition. Italian football plays a fundamental role in the country. Excellence is what defines us, from bringing through coaches to training referees – we have 37 international match officials. There's a growing trend, including in women's football – that despite the low membership numbers. After the World Cup in France, I'm sure this will only increase. I would also like to highlight the improvement of our Under-17 and Under-19 teams in the European rankings. Furthermore, the FIGC has proven that it's capable of generating interest in important competitions as we look towards the 2020 European Championship. In the last eleven years, Italian football has paid 11.4 billion euros in tax and has received 749 million euros in return.Therefore, for every euro the Italian government has invested in football, it has got 15.2 euros back – something which must make everyone think a little."

Among the most interesting trends to analyse is the strong growth in women's football, a topic made even more relevant by Italy Women's excellent performance at the 2019 World Cup (a competition the Azzurre had not previously qualified for in 20 years. In the last ten years, the number of registered female players has increased by 39.3 per cent, or from less than 19,000 to just shy of 26,000. And after the exploits of Milena Bertolini's side in France, where they were knocked out in the quarters against the Netherlands with millions of TV viewers watching on, the number of registered members is only set to increase over the next few months.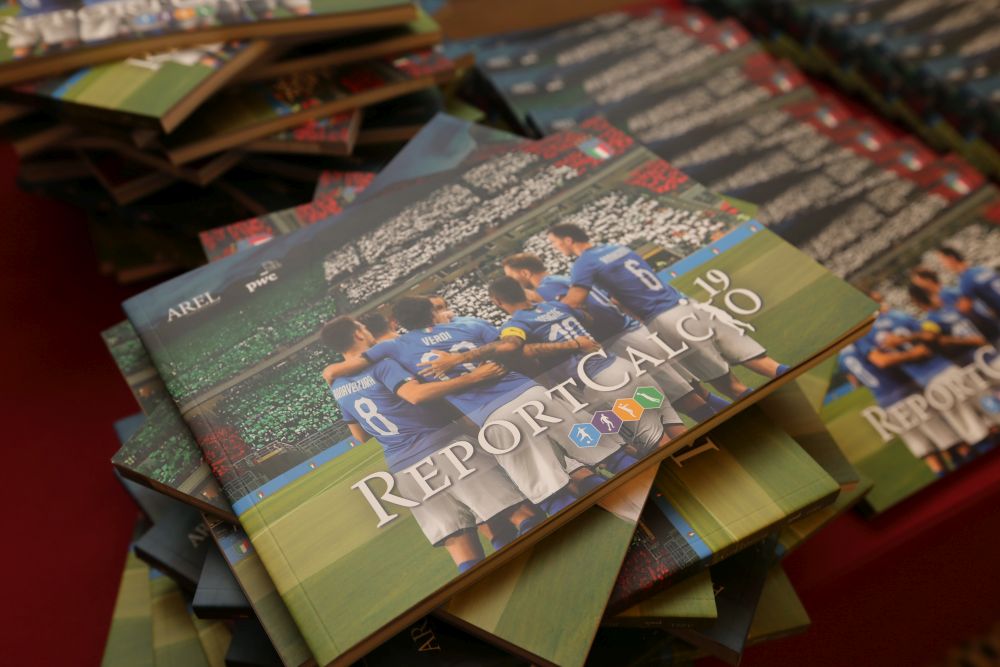 The main news feature of the 2019 ReportCalcio is the section studying the benefits of football alongside UEFA and their impact on the country. The 'Social Return On Investment (SROI) Model' algorithm analyses the socio-economic impact of Italian football, which in 2017-18 was valued at 3.01 billion Euros. The sectors involved were economic (742.1 million contributed to the national economy), social (1,051,4 million saved thanks to the positive effects of football) and health (1.215.5 million saved from health benefits of football).

As always, the report analysed the numbers from the 19 Italy National Teams, which are the FIGC's main strategic asset with an investment of 30 million Euros in 2018. Only in 2017-18, there were 197 competitive fixtures with 607 male and female footballers called up for 1,010 training days. With the Azzurri shirt one of the most recognisable Italian symbols, the teams continue to represent an important section of the TV audience. There were 84.6 million spectators in 2018, while social media followers topped 8.3 million with growth of 7.5 per cent in 2017 compared to 2017 and 56.2 per cent compared to 2015. Profiles linked to the women's teams also grew significantly and views on the FIGC Vivo Azzurro YouTube channel went from 6,085 in 2013 to 561,603 in 2018.

The document also provides a window into the international context, comparing Italy to other leading footballing nations. European football is a sector with strong financial growth, revenue from the 54 top divisions moved from 2.8 billion in 1996 to 20.1 billion in 2017. In just the past 12 years, revenue increased on average by 7.5 per cent each year, while in the same period GDP across the EU never went above 2.5 per cent. The top five European leagues for average club revenue are in England (267 million Euros), Germany (155.5 million), Spain (144.5 million), Italy (108.1 million) and France (81.9 million).

In terms of infrastructure, attendances continue to rise for professional and international football. In 2017-18, there was an overall attendance of 17 million with growth of 8.4 per cent compared to 2016-17 and 13.6 per cent compared to 2015-2016. Financially, that led to an increase of 22.4 per cent in revenue from ticket sales in professional football and 32.4 per cent in Serie A, the most significant increase in the past ten years. The situation regarding infrastructure remains critical with an average facility age of 60 years and 93 per cent of stadiums are in public ownership. 86 per cent of stadia do not use sources of renewable energy and 45 per cent of seats are uncovered.

The focus on professional football is completed with a chapter on governance models. Considering the assets of those who own professional clubs, 31 per cent are owned by individuals, 57 by Italian corporations and 12 per cent by foreign corporations. Over the past seven years, club owners have carried out recapitalisation activities worth a total of 2.4 billion euros.
The report can be found in English by clicking here (high definition - low definition)
Guarda le foto