UEFA Nations League draw to take place on 3 March: Italy in Pot 2
The Azzurri will be involved in League A, which will consist of 16 teams. FIGC President Gravina and National Team Head Coach Mancini will attend the draw
Thursday, February 27, 2020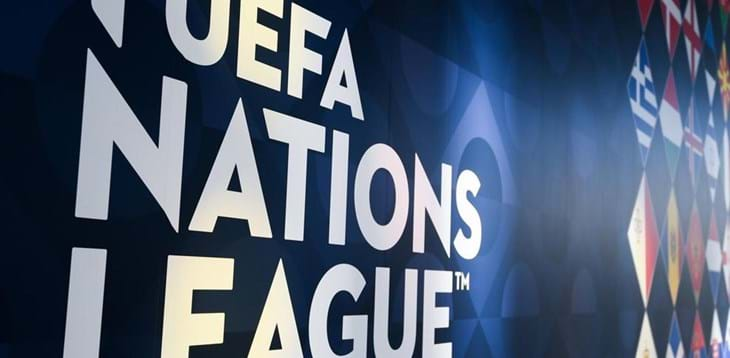 At 18:00 CET on Tuesday 3 March, the draw for the 2020/21 UEFA Nations League will take place at the Beurs van Berlage Conference Centre in Amsterdam. As was the case for the first edition of the competition, Italy will be in League A, which has now been expanded from twelve to 16 teams. They will be divided into four groups consisting of four sides. From 3 September to 17 November 2020, each team will play three home games and three away matches, with the winners of the groups then qualifying for the Final Four, from which one winner will emerge in June 2021.
The draw, which will be attended by FIGC President Gabriele Gravina and National Team Head Coach Roberto Mancini, will see Italy placed in Pot 2 along with Belgium, France and Spain. The Azzurri will be drawn alongside one of Portugal, the Netherlands, England and Switzerland from Pot 1, Bosnia and Herzegovina, Ukraine, Denmark and Sweden from Pot 3 and Croatia, Poland, Germany and Iceland from Pot 4.
In the first edition, which was won by Portugal thanks to their 1-0 success over the Netherlands in the final, Roberto Mancini's side finished second in their group: Italy finished behind the eventual winners and above Poland.
Prior to the Nations League draw, the Beurs van Berlage Conference Centre will host the 44th Ordinary UEFA Congress. Key items on the agenda include the presentation of the annual UEFA report, the election of a UEFA Executive Committee member for a one-year term and the election of a European member of the FIFA Council for a three-year term. Furthermore, the composition of the UEFA Organs for the Administration of Justice and also the composition of the UEFA Governance and Compliance Committee will be ratified. As usual, the Congress will be preceded by a UEFA Executive Committee meeting, during which decisions will be made regarding the stadiums that will host the 2022 Europa League final, the 2022 & 2023 UEFA Super Cup finals and the 2022 & 2023 UEFA Women's Champions League finals. In addition, the venues that will host the UEFA Congresses in 2021, 2022 and 2023 will be determined.
LEAGUE A
Pot 1: Portugal, Netherlands, England, Switzerland
Pot 2: Belgium, France, Spain, ITALY
Pot 3: Bosnia and Herzegovina, Ukraine, Denmark, Sweden
Pot 4: Croatia, Poland, Germany, Iceland

Schedule
Matchday One: 3-5 September 2020
Matchday Two: 6-8 September 2020
Matchday Three: 8-10 October 2020
Matchday Four: 11-13 October 2020
Matchday Five: 12-14 November 2020
Matchday Six: 15-17 November 2020
Finals: 2,3,6 June 2021
Relegation playouts: 24,25,28,29 March 2022