WOMEN'S UNDER-17-- 20 called up for two friendlies with Serbia, first match on 23 September
The Azzurrine will gather from 19 September in Norcia for the first two matches of the season
Wednesday, September 11, 2019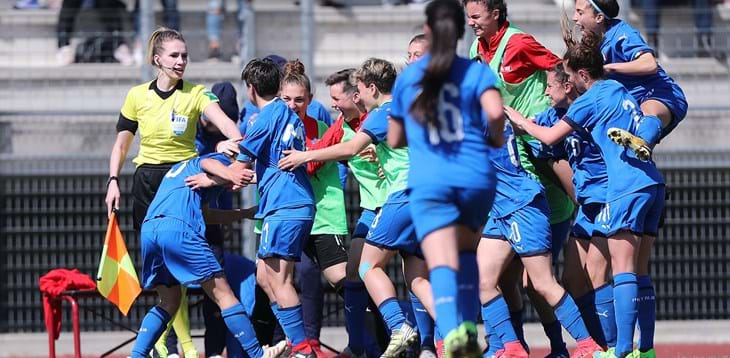 The Women's Under-17 National Team are set for their first two engagements of the season. After gathering in Norcia at the start of September, they will play Serbia in two friendlies. The first will be on Monday 23rd September with kick-off at 18:00 CEST at the Stadio Enzo Blasone in Foligno while the second will be on Wednesday 25th September at the Stadio Carlo Degli Esposti in Bastia Umbria with kick-off at 17:00 CEST.
Coach Nazzarena Grilli has named a squad of 20 players born in 2003 and 2004 and the training camp will begin on Thursday 19th September in Norcia. The two friendlies will help the team to prepare for the first phase of European qualifying when Italy will be in action between 14 and 20 October in Scotland in a group with the hosts, Montenegro and Northern Ireland.
Squad List
Goalkeepers: Verena Beka (Milan), Astrid Gilardi (FC Inter);
Defenders: Elena Battistini (Castelvecchio Cesena), Erika De Pellegrini (Hellas Verona), Marika Massimino (AS Roma), Sofia Panetta (FC Inter), Alice Pellinghelli (Sassuolo);
Midfelders: Giada Abate (Genoa), Valentina Colombo (Atalanta), Valentina Gallazzi (FC Inter), Alice Giai (Juventus), Elisa Mariani (FC Inter), Maria Letizia Musolino (Juventus), Matilde Pavan (FC Inter);
Forwards: Nicole Arcangeli (Juventus), Chiara Beccari (Juventus), Alice Ilaria Berti (Juventus), Alice Corelli (AS Roma), Arianna Marengoni (FC Inter), Emma Severini (AS. Roma).
Staff - Coach: Nazzarena Grilli; Assistant Coach: Selena Mazzantini; Segretario: Daniela Censini; Goalkeeping Coach: Matteo Fantozzi; Fitness Coach: Fabio Patteri; Doctor: Sebastiano Porcino; Physiotherapist: Giuseppina Miranda; Nutritionist: Natale Gentile.