National Team's social media views skyrocket!
Over 300 million impressions on the Azzurri's social media platforms in Italian, English, Arabic and Chinese in just one week
Thursday, July 8, 2021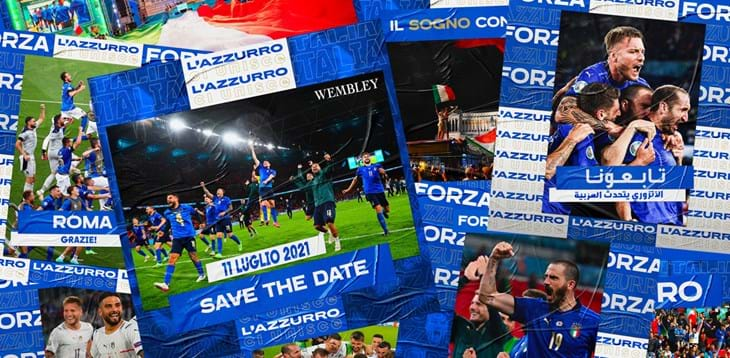 Coach Roberto Mancini's Azzurri are not only astonishing us on the pitch with exceptional performances, but also online, with National Team's social channels growing digitally.
The storytelling, which has engaged hundreds of millions of fans, rests on two fundamental concepts – "The strength of the group" and "The Azzurro blue that unites us" – both summed up in a modern and youthful graphic content style.
In terms of numbers, in the last seven days alone, the total number of followers across all Azzurri platforms has increased by over 720 thousand users, and the total number of impressions has exceeded 300 million.
Other important data includes the platform's engagement, that, again in the last week, between Instagram and Facebook alone, has reached almost 30 million interactions with Azzurri fans all over the world.
It should also be noted that immediately after the quarter-final victory against Belgium, we saw the most viral tweet in the history of the National Team. In response to a tweet published on matchday by the Belgian social media channels, calling their squad to arms, the triumphant Italian reply generated 86,000 likes and almost 30,000 retweets.
Finally, to emphasize how international the ever-growing Azzurri fan base is, there has been a rapid rise in the following of social channels in Arabic and Chinese. In the last week alone they have jointly recorded more than 10 million impressions.