Happy birthday to Federico Bernardeschi and Angelo Peruzzi!
The Juventus midfielder turns 27 while the goalkeeper who won the World Cup in 2006 is 51. Tuesday 16 February 2021
Tuesday, February 16, 2021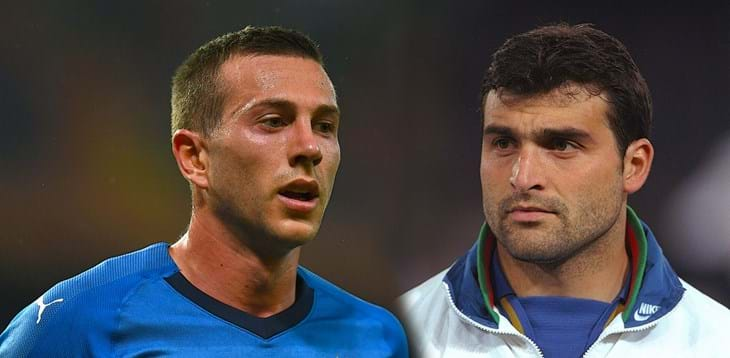 An all-round attacking player with a fine left foot, Federico Bernardeschi was born on February 16 in 1994 in Carrara. After having first played for Atletico Carrara, his talent was soon noticed by Fiorentina scouts, who brought him to the Tuscan capital at ten years old. His first professional experience dates back to 2013, when Fiorentina sent him out on loan to Crotone in Serie B: he made a name for himself right away with 12 goals in 39 appearances, which turned out to be an essential contribution for the playoff hopes of the Calabresi.
He returned to Fiorentina the following season and made his Serie A debut, under the guidance of Montella, on 14 September 2014 against Genoa, which finished 0-0. His first goal for Fiorentina came not long after, in the Europa League against Guingamp, while his first goal in Serie A came on 31 May 2015 against Chievo Verona. The next season, he donned the Viola number 10 shirt, a progression that was a real boost for him, given that he became one of the key players in Montella's first XI and saw him playing in various roles and positions, always performing at the highest level. In summer of 2017, Federico moved on to Juventus, his current club.
He received his first call-up for the Under 21s under Di Biagio in 28 Feburary 2014 to make his debut on 5 March in a European qualifier match against Northern Ireland; his first goal came in the final match of the group stage, the Azzurrini 7-1 victory against Cyprus on 9 September 2014. His first experience with the national side was in March 2014, when the then manager Prandelli decided to bring him to a training session for young players with potential. However, his first actual call-up for the side came under Conte on 19 March 2016, ahead of friendlies against Spain and Germany leading up to the Euros: he made his debut against Spain on 24 March. He took part in the 2016 Euros campaign and got one international cap under his belt. Today, he counts 27 appearances in the Italy jersey and five goals.
Angelo Peruzzi was born in Blera (VT) on 16 February 1970. A goalkeeper for Roma, Juventus, Inter Milan and Lazio and a World Cup winner with Italy in 2006, he is now manager of Lazio. An explosive defender and very effective at stopping low shots, he started off in the youth ranks of Roma, making his debut with the Giallorossi on 13 December 1987 at only 17 years of age. In the 1991-92 season he moved to Juventus where he would be a key player in their many victories under Marcello Lippi, winning every possible trophy, both on a national, European and international level. After a brief stint at Inter Milan he was transferred to Lazio, where his career came to an end in the 2006-07 season.
He played in the Euros twice with the Under-21s, 1990 and 1992, winning the latter. His first appearance for the senior Azzurri came on 25 March 1995, in a European qualifier match against Estonia (a 4-1 win). He was a regular starter in Euro 96 in England but missed out on the 1998 World Cup due to injuries. He returned as third keeper for Euro 2004 before being called up by Lippi for the 2006 World Cup, won on German soil. He has 31 international caps. During Marcello Lippi's second period as manager, he joined the Azzurri staff for the 2010 World Cup which took place in South Africa, going on to be assistant manager for the Ferrara Under-21s.