Facilities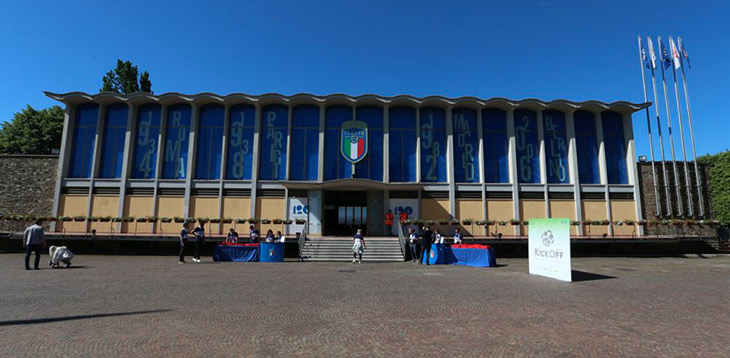 In its guise as both the 'University of Football' and the 'Home of the Italian National Team', the training centre at Coverciano is at the forefront of facilities available for technical development and training.
The facilities available are as follows:
Four full-size grass pitches
One small-size grass 'Practice' pitch
One 5-a-side pitch with artificial turf
A multisport gym suitable for Futsal, basketball or volleyball
Two gyms, one of which was recently opened with the most modern equipment
A 25X15 metres swimming pool
Two tennis courts with artificial turf
 
At the training centre, all of the pitches are natural grass and that includes the small-size ones. They are numbered in clockwise order and pitch number 3 is the most famous as it hosts the senior side's training sessions and friendlies which allows for it to be pictured whenever the Azzurri gather at Coverciano. An irrigation system which is active day and night keeps the pitches in top condition while the grass is cut daily. Behind the brick building which contains the restaurant and the bar, pitch number 3 is served by three changing rooms. There is also a vast terrace which has views over pitches 3 and 4. The structure also contains a medical room along with two rooms which can be used as sauna, cryosauna or Jacuzzi rooms.

Starting again in numerical order, pitches 1 and 2 both have stands pitchside. Pitch 1's stand is uncovered while pitch 2's stand is covered. These pitches usually host the various Italy youth sides for training, friendlies and tournaments. Pitch 2 was recently re-laid and it is now 100 per cent grass like the other pitches at Coverciano. The teams can use the dressing rooms below the covered stand at pitch 2 while there is another smaller one for referees and a medical room. The fifth pitch is also grass but of reduced dimensions. It's mostly used for lessons out on the pitch on coaching courses or for practical demonstrations during FIGC training camps.
Pitch number 5 is made of artificial turf, used for 5-a-side football and it's the final pitch at the facility,
As already mentioned the founding concept was for a football facility but one with capabilities to hold other sporting or physical activities. Marchese Ridofli's vision was for the centre to be dedicated to football, but multidisciplinary at the same time. Therefore, as mentioned earlier, there are five full-size football pitches, one 5-a-side pitch, two tennis courts with artificial turf, one covered swimming pool which is 25X15 metres and three gyms.

The first has a parquet floor suitable for Futsal, basketball or volleyball. Considering its size, it sometimes also hosts the Panchina d'Oro or Panchina d'Argento award ceremonies organised by the FIGC's technical sector to recognise the best coaches in the Italian professional ranks.

A newer gym opened in 2012 is situated between pitches 3 and 4 and is recognisable for its distinctive architectural style. Inside, it has the most modern equipment which can be used by the teams who come to Coverciano, be they the students of the coaching school or fitness coaches who require a more practical lesson.

Furthermore, there is a third smaller gym behind the first which is the base for the 'Laboratory in training methods and biomechanics applied to football'. With its advance medical/scientific equipment, the laboratory conducts analysis and research by studying the movements of sportspeople.


In addition to these sporting facilities, the centre also contains:
A lecture hall with 150 seats
Various meeting rooms including the 'Renzo Righetti' meeting room
A library with over 3,500 titles in books, journals and dissertations from previous courses with a focus on sport in general and football in particular
A medical facility with equipment to aid recovery and rehabilitation
A hotel with 54 single and double rooms where the 'Foresteria' can also be used as another meeting room with a capacity of 54 seats and it's equipped with multimedia equipment.
A restaurant capable of hosting 150 diners
The symbol of the FIGC'S Technical Section is the 'Giovanni Ferrari' lecture hall. Here, the majority of lessons for future coaches take place. But, that's not all. Thanks to its design, the lecture hall is also ideal for seminars and conferences and it also hosts the press conferences for managers and players when the national side is based at Coverciano.