Explore the Museum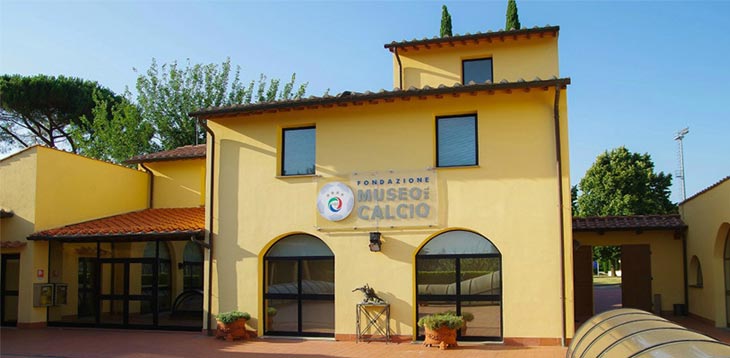 The Italian Football Museum of Coverciano contains the history of the Italian national football team and the FIGC, through the exhibition it is possible to relive the emotions and memories linked to the present and past history of the Azzurri and the Azzurre.
The museum is divided into three rooms: in the first room there are memorabilia and documents that tell the story of the national team from its beginnings up to the 1960s.
Starting the exhibition itinerary, it is possible to observe the oldest memorabilia of the Museum: it is the pennant of the friendly match Italy-Austria, played on January 15, 1922 at the Velodrome Sempione in Milan and ended with the result of 3-3.
Another extraordinary memorabilia in this section is the Jersey of Silvio Piola with which made his debut in the national team on 24 March 1935 against Austria and on which the mother sewed a dedication to his son.
The itinerary continues with some jerseys that trace the history of the national team from the post-war period up to 1968. Among these, there is the green number 8 jersey worn by Celestino Celio during the friendly match between Italy and Argentina, played in Rome in 1954. The next section collects the history of the national teams led by coach Bearzot from 1978 to 1986.
In the second room is possible to find the memorabilia that tell the story of the men's national team, from 1990 to the present day, and of the women's national team.
Among the most prestigious memorabilia there is the CIAO, the famous mascot of the 1990 World Cup in Italy, and the number 6 shirt worn by Franco Baresi at the 1994 World Cup in the USA.
Passing through the "immersive" corridor, where videos, images and sounds make us retrace the history of the Azzurri, we reach the third room of the museum. Here are collected the trophies of the men's national team: 4 victories at the World Championships (1934 at home. 1938 in France, Spain '82 and 2006 in Germany), the 1968 Europeans and the 1930 International Cup. There are also the 3 originals cups of the Under 21 European Championships won by the Azzurrini between 1992 and 1996, the European cup won by the futsal national team in 2003 and the Euro 2020 cup of the TIMVISION PES national team.
On the first floor there is a room dedicated to temporary exhibitions and private events.
Entering the Italian Football Museum also means being able to visit the area of ​​the fields of the Federal Technical Center of Coverciano where the national team trains.
Mediagallery