Men's National Team Head Coach
Roberto Mancini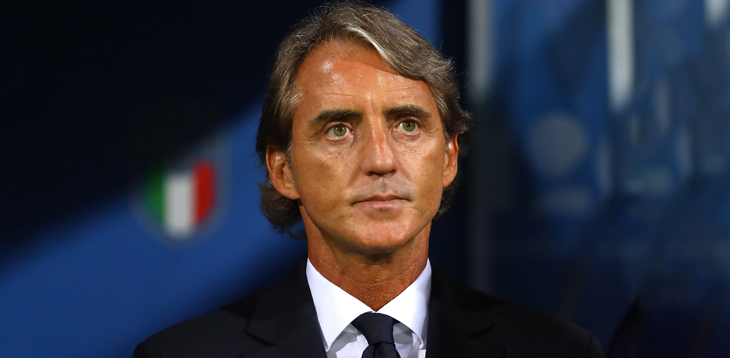 Born in Jesi on 27 November 1964, his managerial career began at Lazio where he was assistant to Sven Goran Eriksson in the 2000/01 season. The following year, he took over at Fiorentina and immediately won the Coppa Italia which was his first piece of silverware as a Coach. Between 2002 and 2004, he was in charge of Lazio, winning the Coppa Italia again before moving to Inter in 2004. There, Mancini became one of the most successful Italian coaches, winning the Scudetto three times, Coppa Italia twice and Supercoppa Italiana three times with the Nerazzurri.
In 2009, he moved to Manchester City for his first experience abroad. There, he won the Premier League, FA Cup and Community Shield. He spent the 2013/14 season at Galatasaray, winning the Turkish Cup before returning to Inter on 14 November 2014.
In June 2017, he signed with Zenit St. Petersburg and was in Russia for the 2017/18 season. During the 2007/8 campaign, he won the Panchina d'Oro prize and he joined the Hall of Fame in 2015 in the Italian Coach category.
His playing career was equally successful as he played for Bologna, Sampdoria, Lazio and Leicester City. As a player, he won the Cup Winners' Cup twice, UEFA Supercup once, Scudetto twice, Coppa Italia six times and Supercoppa Italiana twice.
Overall, he made 545 appearances and scored 156 league goals across Serie A and the Premier League. In all competitions, he made 738 appearances and score 204 goals.
In terms of individual accolades, he won an Oscar del calcio in 1997 as the Best Italian Player and the Best Player Overall.
He holds the record for Coppa Italia appearances (120) and he won the trophy six times as a player and four times as a coach.
Mancini featured at two Under-21 European Championships in 1984 and 1986, finishing third and second before making his senior Italy debut on 26 May 1984 in a 2-0 friendly win against Canada in Toronto. He won 36 caps for Italy and scored four goals, finishing third with the Azzurri at the 1990 World Cup on home soil. His final appearance came in March 1994 during a 2-1 defeat against Germany in Stuttgart.
In 1991, the President of the Italian Republic presented him with the honour of being a 'Cavaliere Ordine al merito della Repubblica Italiana.'