Women's National Team Head Coach and Co-Ordinator
Milena Bertolini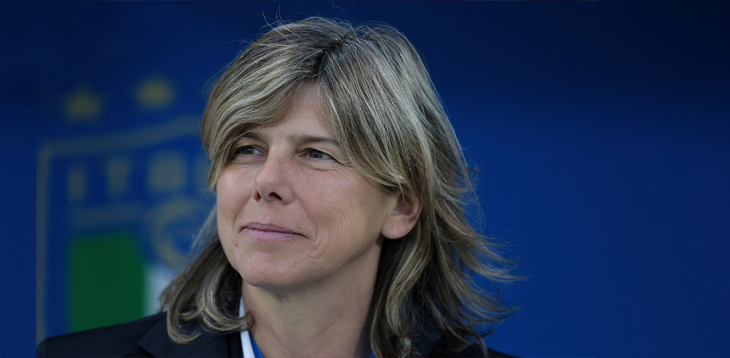 Born in Correggio (Reggio Emilia) on 24 June 1966, Milena Bertolini took charge of the Women's National Team in August 2017 after a brilliant career as first a player and then a club manager in which she won numerous trophies.
After starting at Correggese, she made her first team debut for Reggiana in 1984 before the side was promoted to Serie A two years later. She spent 15 seasons in the top flight at Reggiana, Modena, Prato, Sassari, Bologna, Agliana, Fiammamonza, Pisa and Verona, winning the Scudetto three times, Coppa Italia once and Supercoppa Italiana once.
Her playing career came to an end in 2001 and she joined the coaching staff at her last club, Verona. In 2002, she was named the Coach and won the Scudetto and Supercoppa Italiana. In 2004, she moved to Reggiana where she would stay for seven seasons, winning the Coppa Italia in 2010. In 2012, she moved to Brescia where she enjoyed her greatest period of success. In five years there, she won the Scudetto twice, Supercoppa Italiana twice and she led the 'Leonesse' to the quarter-finals of the Champions League in 2016.
Overall, as a Coach she won the Scudetto three times, Coppa Italia three times and Supercoppa Italiana four times. In terms of individual accolades, she won the 'Panchina d'Oro'  six times which is assigned by the Technical Sector of the FIGC according to votes from fellow coaches.
Earning a degree in 2001 in Bologna in Sports Science after previously studying for a diploma in surveying, Bertolini has been a qualified UEFA Pro Coach and athletic trainer since 2011. She was a Federal Advisor for the FIGC between 2000 and 2004 and she was part of the FIGC's Commission for the Development of Women's Football between 2013 and 2016.
She was also involved in sport away from her roles on the pitch. She was an Assessor for Sport and Social Services with the Correggio Council (1994-1998) and a Provincial Advisor for Reggio Emilia (1998-2002).  In 2013, she became the President of the Fondazione per lo Sport del Comune di Reggio Emilia after being a member since 2008.